---
STENOCARE published on August 17 its Q2-report for 2023. The following are some key points that we have chosen to highlight in connection with the report:
Financial Development During the Period
New Data Implies an Increase in Prescriptions on the Danish Market
The NHS Research Ethics Committee in the UK has Approved a Clinical Trial on Medical Cannabis and Chronic Pain
Financial Development During the Period
Net sales in Q2-23 amounted to DKK 1.7m (0.5), which corresponds to a sales growth of 279%, albeit lower than expected. The revenue during the quarter is attributable to products on the Danish market where STENOCARE has two products approved for sales, a THC and a CBD oil, and are waiting for approval for a third product, a balanced oil combining CBD and THC. This product has been delayed due to a longer than expected approval process from the Danish Medicinal Agency, caused by pressure on its resources. The approval of the balanced oil is expected to be an important sales driver, as this product has represented +50% of sales volume historically. This, in combination with a delay of a new Swedish product for the same reason, lowered the expected sales for 2023 to DKK 7.5-10m, corresponding to a growth of 167% – 222% Y-Y, from previous DKK 15-20m. However, STENOCARE are still expected to reach an annual sales run rate of DKK 15-20m at the end of 2023, which would put the company in a good position for continued sales growth in 2024. The lower-than-expected sales during the quarter and the delay of approval for important products are likely to result in an update of our revenue forecasts.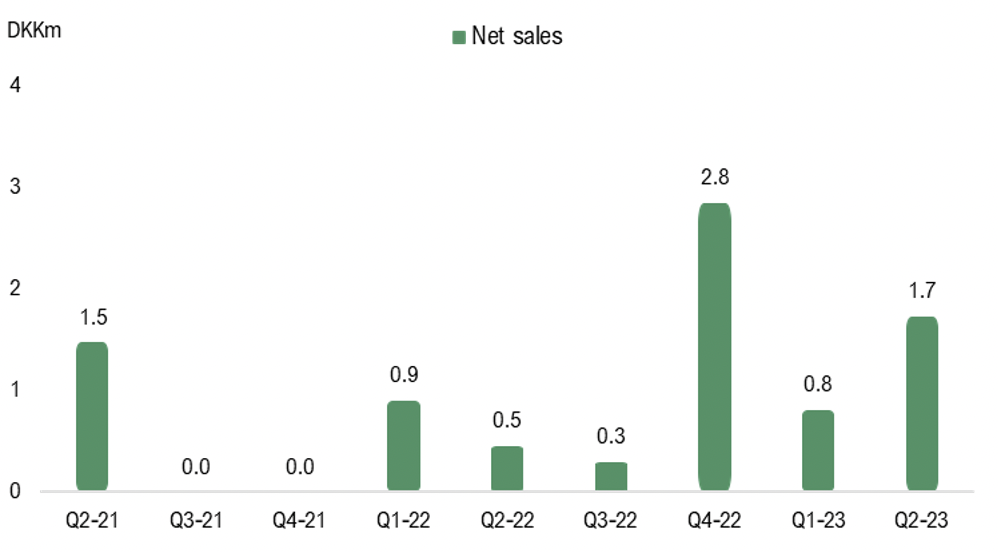 Regarding costs, both external expenses and personnel expenses are developing in a stable manner. External expenses excluding COGS are estimated to have amounted to approximately DKK 2m during Q2-23, compared to approximately DKK 2.5m in the same period last year, which proves that STENOCARE are still running a slim organization towards anticipated break-even, which is now expected during 2024. The personnel expenses amounted to DKK 1.6m (1.6) during Q2-23, which also proves a stable cost development.
The cash flow from operations amounted to DKK -4.3m (-3.6), where the decrease is attributable to a less favourable development in working capital. During Q2-23, STENOCARE raised capital through a Unit Rights Issue, where the initial rights issue was subscribed to approximately 127%, raising DKK 10.7m before deduction of transaction related costs. The capital raise has strengthened the company's financial position and as a result, the cash position amounted to DKK 7m at the end of Q2-23. Moreover, STENOCARE exercised a parallel directed issue where DKK 5m of loans were converted into equity of the same terms as the Unit Rights Issue, which further strengthened the company's balance sheet. Based on a burn rate of DKK -1.1m per month and the cash position of DKK 7m at the end of Q2-23, STENOCARE are estimated to be funded until the end of the year. However, as part of the announced 12 months capital plan for STENOCARE, that will raise up to DKK 29.7m across three transactions from June 2023 to June 2024, the company could receive an additional DKK 3.7-7.8m in December through exercise of Warrants of Series TO 1, where the exercise price will be between 3.21-6.70 per share. Furthermore, STENOCARE are expected to deliver higher revenues during H2-23 compared to H1-23, for instance through products being available for patients in Germany, which is estimated to have a positive impact on the burn rate.
New Data from the Danish Medicinal Agency
In previous equity research reports for STENOCARE we have expressed the development in number of unique medical cannabis patients, which steadily grew between Q2-18 to Q2-19 as STENOCARE delivered products to the market but later declined as the products were withdrawn from the market. As STENOCARE now has had its THC product approved since early 2022 and CBD product since early 2023, it is now of importance to see the development in number of prescriptions since the company once again has entered the market. During this period STENOCARE's products have been the only oil products approved under the Danish Pilot Program, why it is assumed that the patient growth is attributable to the company's products approval on the market. The growth in number of patients is expected to further accelerate as STENOCARE's balanced oil (combined THC and CBD) obtains approval from the Danish Medicinal Agency, as this product historically has been prescribed with the highest volume, but the current data proves that STENOCARE has a strong position on the Danish market according to Analyst Group.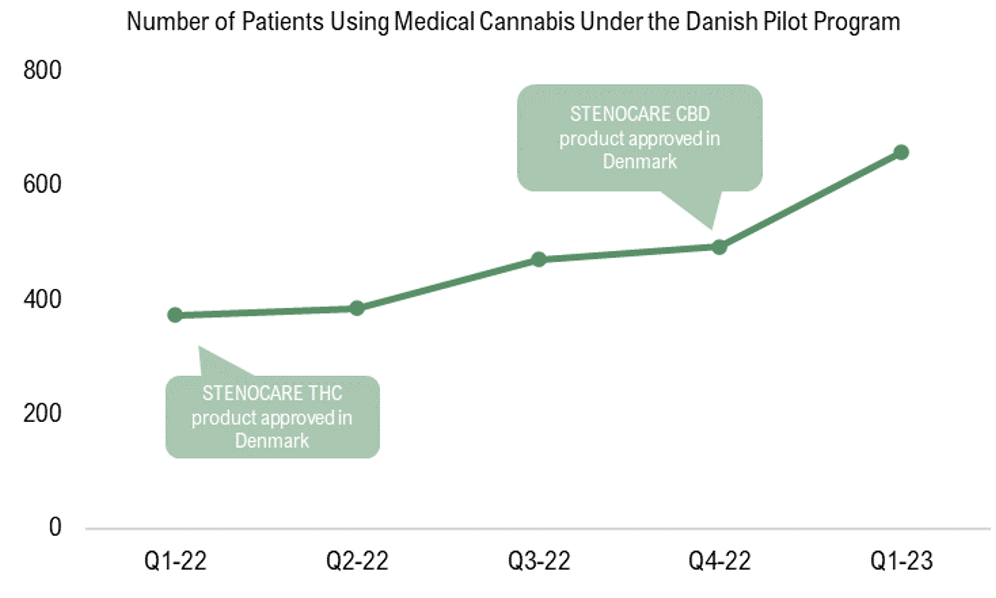 Update on the Danish Product Pipeline
On July 27, STENOCARE provided an update on the company's Danish product pipeline, where the products can be divided into four different stages, as per the table below.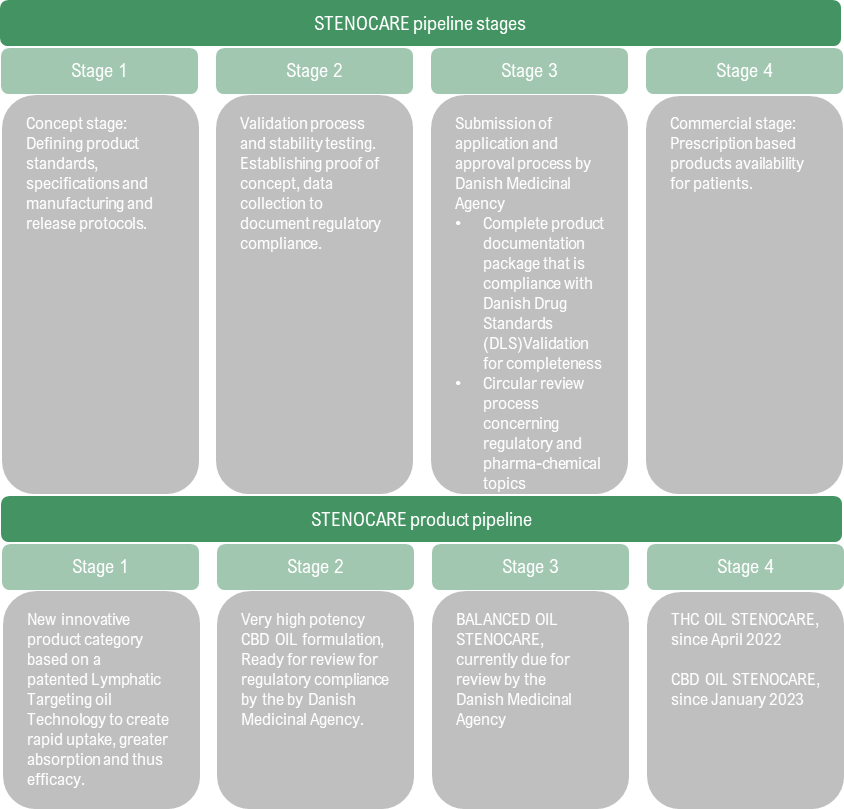 Currently, STENOCARE's balanced oil (a mix of CBD and THC) is due for review by the Danish Medicinal Agency (Stage 3), which should be seen as an important factor for sales growth going forward, as this product historically has represented over 50% of sales volume. STENOCARE's premium products, which are expected to enhance the uptake of cannabinoids, as well as a faster effect, are in stage 1 which is expected to become commercially available during 2024, given that the Company obtains approval. Considering the competitive advantages with the premium products, this is expected to drive strong revenue growth thereafter.
The Market is Moving in the Right Direction
The NHS Research Ethics Committee in the UK has approved a clinical trial on medical cannabis and chronic pain, which will include up to 5,000 patients. Celadon Pharmaceuticals, a licensed producer of cannabis-based medicines in the UK, are in charge of the trial. Celadon previously conducted a three-month feasibility study with 100 patients, which indicated positive outcomes in terms of quality of life, pain, sleep as well as reduction of opioid usage. Up to 28 million people are thought to be living with some sort of chronic pain, which is the most common symptom where medical cannabis is used for treatment, but regulators and policymakers have repeatedly called for more robust data before an ease in regulation can occur, which this study can provide.
The results of the study can, according to Analyst Group, support a wider prescription of medical cannabis for patients suffering from chronic pain, and enable potential reimbursements from the government in the UK, one of STENOCARE's markets. As chronic pain is the most common symptom where medical cannabis is used as treatment and 1.4 million people in the UK are thought to buy cannabis illegally for self-medication of chronic pain, the potential market for medical cannabis in the country is expected to be large, where positive results in Celadons study can enable wider prescription of medical cannabis, hence taking market shares from the illegal market, which STENOCARE can capitalize on. Moreover, STENOCARE has also announced the company's plan to launch an Online Clinic for pain management in the UK, expected to be launched during H2-23, which has the potential to position the company within the area of treatment.
To summarize, STENOCARE delivered lower sales than expected during Q2-23, where product approvals have been delayed due to a longer than expected approval process from medicinal agencies. Costs are developing in a stable manner, also lower than our expectations, which proves that the company are running a slim organization on the way to anticipated break-even. Despite a slower sales growth than expected in 2023, we remain confident that STENOCARE are making the right moves to deliver sales growth going forward, for example through entering new markets, working together with agencies to secure approval for new products and enabling doctors to reach more patients through online clinics.
We will return with an updated equity research report of STENOCARE.