---
2022-05-23
---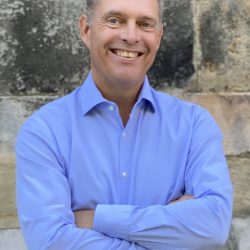 VD Lars Minor
For those how have not yet heard so much about Newbury Pharma, can you describe the company and what you do?
Newbury Pharmaceuticals were founded in 2020 and have since then built an in-licensed product portfolio with a total of 29 products in prescription drugs, with a focus on specialty drugs and branded products. Our business model is based on our expertise in registration and commercialization of pharmaceuticals in the Nordic market and relies on in-licensed products through partnerships. We do not develop drugs ourselves, which gives us the opportunity to be a cost-effective organization, while we have a specialized team with deep knowledge in registration and commercialization.
We are active in prescription drugs. Our focus areas are specialty medicines and own brands. Specialty medicines are a collective name for medicines that threat chronic, complex, and rare diseases. They are characterized by high price, high complexity and/or extensive hand-laying, which refers to the high degree of complexity. While our own branded medicines consist of complex molecules that make the products unique and, in most cases, non-exchangeable. Own branded medicines offer consumers a product name that is probably easier to remember than the generic name, and some of our own brands are manufactured as a new dosage form of an existing medicine or other added value for patients.
Newbury has a business model that focus on registration and commercialization. Can you describe your business model and your partnership model?
Newbury has a small and flexible organization which is an advantage. Our expertise in the registration and commercialization area in the Nordic markets makes us a preferred partner. Our business model is based on in-licensed products through partnerships and because we do not have any own drug development it minimizes the traditional risks and investments as in capital goods, research and development and production that pharmaceutical companies often entail. Our strategic partners carry the costs and risk during the discovery and development phase of the product, while we carry the costs and risks during regulatory approval and commercialization. Our business model is possible due to our strong partnerships and network of suppliers that offer flexibility, speed, and scalability. Our deep knowledge of the Nordic markets together with our partners strengths creates the good position we have today.
Partnerships are one of our strategic pillars to create value for patients and other stakeholders. Our strategic product focus together with our geographic focus makes us a preferred partner for many pharmaceutical companies. These pharmaceutical companies often focus on primarily larger markets than the Nordics, both in Europe and in the rest of the world. We can thus offer a quick access to a market that they don't regularly process. We have a strong focus on continuously expanding our portfolio with strategically important products.
In late April, Newbury announced two new products to the portfolio, and has currently 29 products in the portfolio. Can you elaborate a bit more regarding Newbury's portfolio and your go-to-market strategy?
The product portfolio currently consists of 29 products within several different therapeutic areas, as oncology, rare diseases, and neurology. The first launch took place in February with Icatibant, which entered the Swedish and Norwegian market. The first launch is an important milestone and validates our business model, and we have more products to follow. Our strong portfolio enables us to generate a steady stream of product launches in the coming years, but at the same time we have a strong focus on continuously expanding our portfolio of strategically important products. This means our pipeline is growing and we have a strong focus that it will continue to grow. We have a good position to scale up future launches and identifying new license opportunities.
Our go-to-market strategy depends on the drug that will be launched and therefore the commercialization strategy differs, but we always have a focus on timing, pricing, and volume. We have a strong team with a local expertise and knowledge which is a key component for a successful launch.
What do you envision for Newbury in the long run and what will be the biggest challenges for the future?
The vision is to continue executing on our strategic road map. The first step was to build a strong portfolio, become listed and secure capital to enable future growth and development for the company. Now that it has been completed, we enter a new phase where the focus shifts to commercializing our products and further strengthening our pipeline for the future. Our road map includes three building phases:
Ensuring availability and cash flow from the sale of our commercialized drugs
Continuing to expand our product portfolio to ensure continued strong growth
Continuously looking for M&A opportunities
This brings challenges as for most firms with high growth potential. We cannot predict the future and how to best predict competition, new products and product investments which can unfold our strategic road map, but at the same time I am convinced that our team has the right knowledge to manage and execute on our strategy.
Could you give three reasons as to why Newbury is a good investment today?
Firstly, I want to highlight our solid position in the market, where commercialization will begin to drive strong growth and our existing product portfolio is expected to generate a steady stream of product launches in the coming years.
Secondly, we have a strong team with deep knowledge and expertise within our sector in the Nordic markets.
Finally, our business model minimizes the risks that a traditional pharmaceutical company often entails, this gives Newbury an attractive risk/reward ratio.